I'm hosting Photo Story Friday today with one of my favorite mommy bloggers of all time,
Cecily
. I'd like to invite you to link up and play along.
I just found out that I can buy a case of Preying Mantis eggs for only $8.00. That $8.00 case of eggs is supposed to hatch into 200 preying mantis' in the spring. I've read that they are great for the control of mosquito's and flies. Most importantly though, I happen to know first hand that they are great for controlling and amusing children.
My case in point:
My children happily spend hours outside observing and touching (and I guess probably tormenting) creatures that are interesting to look at like snails, lizards and preying mantis'.
Which got me thinking. It's very smart indeed to fill my yard with lizards and snails and preying mantis's. The snails and lizards are already covered. But the other? I'm thinking $8.00 is a pretty fair price for a little amusement and peace. Don't you?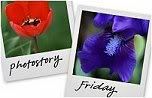 Hosted by Cecily and Angie
To play PhotoStory Friday, check this. Then copy the code below into your post and sign the Our Blurbs Guest List.
<center><font size="-2"><a href="http://whatworksforus.blogspot.com/2007/06/iphone.html" target="_blank" alt="Photostory Friday"><img src="http://i212.photobucket.com/albums/cc50/whatworksforus/pfws.jpg" alt="PhotoStory Friday" border="0"></a><br/>Hosted by <a href="http://mychaosmybliss.blogspot.com/" target="_blank">Cecily</a> and <a href="http://angiescircus.blogspot.com" target="_blank">Angie</a><p/></font></center>