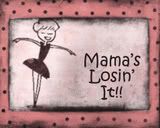 You all know how much I love a good writing prompt, right? Mama Kat never disappoints. If you haven't participated yet, now is your chance!
This week I chose to write about "she that leaves no stone unturned".
She's a beauty, I know. But that's beside the point.
"She that leaves no stone unturned" is a bit of a perfectionist. Although she wouldn't agree.
She alphabetizes her movies AND spices AND her closets are as clean as the rest of her house.
She's a bit like me, if I do say so myself, except I don't alphabetize my spices and my pantry doesn't always look perfect.
Who am I kidding? I don't hold a candle to this chicks methodology.
After I flunked out of a rigid exercise program after 4 sessions she decided to give it a try. And she completed the WHOLE program, turning her already tiny frame into a lean muscle machine.
When I was moving I called her up specifically because I needed her to make sure my grandma's china didn't get damaged in the move. She didn't disappoint. Isn't she lucky to have someone that always thinks of her?
When she puts her mind to something, she does it perfectly, and that's why she's "she who leaves no stone unturned".


I'm lucky enough to call her my "sister in law". Sometimes her name gets really long and tiresome. I wonder if it gets long and tiresome to her too?
*"She that leaves no stone unturned" is on the right, and "she that looks like a super model and has the best common and directional sense around (and is a GOOD person)" is on the left. I'll write about her sometime too, if the writing prompt prompts me! :)