Looks like trying to pre-publish bit me in the rear. I didn't finish this post and I have been without internet and a phone for over a week. So, if you visited earlier this morning, the post may have been a little confusing...
Head on over to SITS for a Mega Blog-a-thon. There are incredible prizes galore.....
Wanna know how SITS has changed my life?
Go here.
And here's a sample of a few of the great blogs I've found through SITS. I ran out of time with the linky love though, so for links to more great blogs, refer to my blogroll under "found through SITS".
Kat at
Mama's Losin' It
Heather at
Mindless Junque
Tiffany at
The R Family Diaries
Lulaville
The Peterson's Go Public
A Day in Rhonda's Life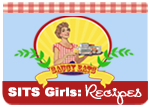 SITS Recipes
Little Mamma and Company
Live. Love. Eat.