Kathy at
Mama's Losin' It
turned me on to
this blog
(The Secret is in the Sauce) that will help bring more traffic to YOUR blog. Her words say it all, "If you send them three of your best posts you will become a featured blogger on their site where they will direct all their readers to YOUR blog. They will talk about how pretty and clever you are and they will come to your house and clean for a week!!" As soon as I read that last part I was hooked. Compliments and cleaning? I'm in. Alas, that part isn't true, but the blog is great, and they are having some
big
giveaways!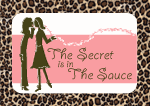 In other news, Kailani at
An Island Life
is hosting her annual Bloggy Hoss Elections. She is giving all of us a chance at going for a cool bloggy award. She has a variety of categories, but I'm only listing the ones that I think my blog would be perfect for. You see, I really want to win. I. just. do. So please, go nominate me. And
I'll
clean your house for a week. And tell you that you are pretty and clever. On second thought, maybe I'll just tell you that your are pretty and clever AND cool.
Class Clown (only because my blog is Seven Clown Circus)
Brainiest
Most Popular
Most Likely to SucceedNicest Personality
(I've always been told I have a good personality)
Best Looking (Site Design)
Go vote. I promise I'll thank you!
Lastly, here's a huge thank you for commenting on my last post. It was so fun to read all of the comments. I even found some new bloggy friends!