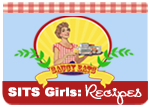 Ahem........and helping me to win a $100.00 gift card to Williams Sonoma AND a digital camera? This is your chance to discover 11 seriously delicious recipes and
make my dreams come true
. (Just kidding about that part.) Out of
thousands
-all right, I don't know how many submissions there really were, but, out of LOTS of recipe submissions, I'M A SEMI-FINALIST. The recipes were chosen by a Professional Chef and the Saucy Eats Founders, so having my recipe selected is a HUGE deal.
I'd like to encourage you (OK, beg you) to go vote. There* is * something in it for you.....for one, my undying devotion, and for another, well, 11 FABULOUS recipes.
Saucy Eats
is only a click away! Hope you enjoy the recipes as much as I know I'm going to. I'm the SECOND ANGIE, my recipe is the SALAD, not the mushrooms!
My recipe is found
here
, on my cooking blog,
Cooking For A Circus Has To Be Simple.